The strong trend of accelerated learning in Kenya
The widely anticipated 2018 Kenya Certificate of Primary Education (KCPE) results have been released. Over a million children took the exam and for the first time, there was no passing or failing. Following sweeping policy changes, all children are now eligible to attend secondary school. The KCPE score simply determines which type of secondary school.
Bridge has much to celebrate. For the fourth consecutive year, Bridge pupils have dramatically outperformed their peers; cementing the trend that Bridge pupils do better. Thousands of Bridge pupils sat the exam and excelled, despite family incomes of about $1.60 per person per day and hailing from communities trapped in the poverty cycle and often plagued by unrest.
Once again, multiple Bridge pupils have been placed in the country's top 1%, giving them a highly competitive edge for elite national secondary schools admission. Graduates such as Meshack Mutinda from Bridge, Gicagi achieved 420 marks becoming an instant community role model.
Bridge pupils scored an average of 12 points higher than pupils nationally, a difference of 0.19 standard deviations, equivalent to almost one full additional year of schooling. 59% of Bridge pupils scored at least 250 marks – with an average of 262 marks – and were 18% more likely to do so than their peers . This is relevant because historically, pupils scoring above 250 marks have attended much better secondary schools than those scoring below 250 marks.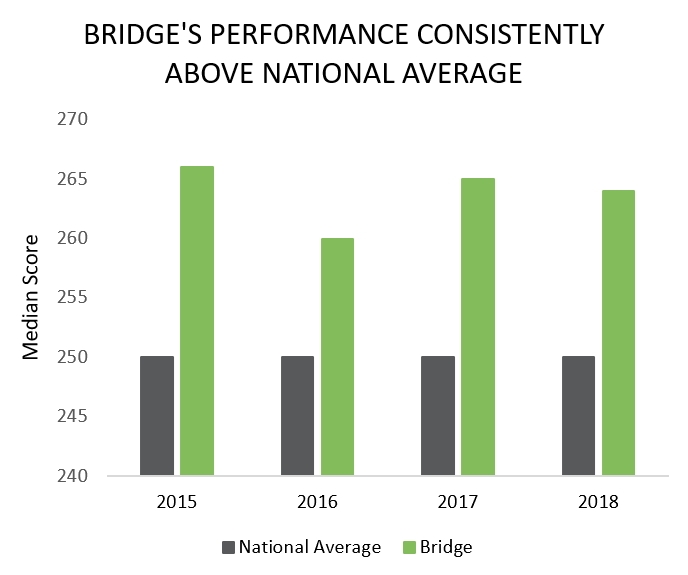 The performance of girls in Bridge schools is also noteworthy. The individual performances of top scorers Stacy Linda Achieng from Bridge Getembe (409 marks) and Victoria Juarez from Bridge Lamu (403 marks) have paved the way for local and national celebration. Group results are also promising.  For the fourth consecutive year, girls attending Bridge for five or more years were the highest performing cohort, averaging 281 marks. The success of this cohort accentuates the exciting trend that extended education at Bridge appears to close the gender achievement gap endemic in typical KCPE outcomes.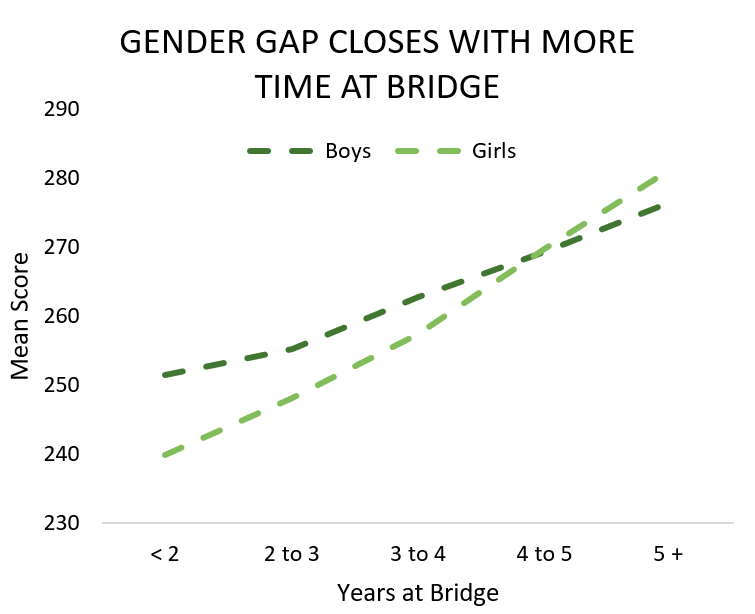 In four years, the number of girls attending Bridge schools achieving at least 250 marks has increased by 30%.  In communities where girls education often faces cultural challenges these outcomes show significant impact.
Additional data analysis reveals:
Multiple pupils scored over 400 marks, including from disadvantaged communities such as Lamu.

27% of Bridge pupils scored over 300 marks compared to 23% nationally.

72% of pupils attending Bridge for 5 years or more scored at least 250 marks.

Bridge pupils are 30% less likely than the average pupil to get 200 marks or less and jeopardise secondary school placement.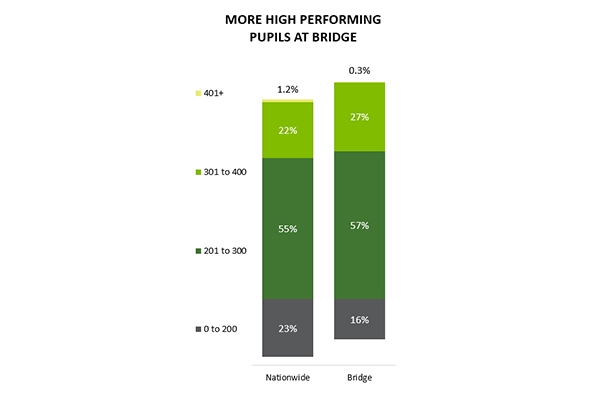 Impressively, some of these results are from pupils who only had the benefit of one full academic year at Bridge.  The average score for Bridge pupils increases for each year they study in the school. Pupils who have spent the majority of their primary education at Bridge (five or more years) averaged almost 30 points higher than the national average and are 43% more likely to score at least 250 marks than the average Kenyan pupil.
Bridge pupils are often the first in their families to complete primary school or have access to secondary education, demonstrating how Bridge is a springboard for social mobility. 2018 Bridge graduates have been admitted to prestigious secondary schools such as Machakos Boys, Maranda High School and Friends Kamusinga. The results have proved, once again, that poverty isn't destiny. It has demonstrated that children from impoverished communities can successfully compete with the wealthiest sections of Kenyan society; all they need is opportunity.
Alone, these results should give policymakers pause for thought. Assessed in the context of a four year trend they require serious consideration; reviewed as part of the wider evidence base of learning outcomes being generated across Africa, they demand attention.