Bridge pupils shine once again in 2022 KCPE exams
For the eighth consecutive year, pupils from the Bridge Academies have overcome numerous odds to achieve exceptional results in the just-released Kenya Certificate of Primary Education (KCPE 2022) examinations.
At least  5 Bridge Kenya pupils scored over 400 marks in the exams, placing them among the top 1% of the 1,233,852 students who sat the exams across the country. The following are the Bridge pupils who scored 400 marks and above.
Arnold Odhiambo Onyango – 407 – Bondo Bridge Academy – Siaya County

Joy Catherine Wamuyu – 405 – Kwachola Bridge Academy – Mombasa County

Byron Peter Ochieng – 403 – Majengo Mapya Bridge Academy – Mombasa County

Dennis Muthoka – 402 – Majengo Mapya Bridge Academy – Mombasa County

Mark Nigel Ogola – 402 – Sigomre Bridge Academy – Siaya County
Despite coming from some of the lowest-income regions in the country, these five pupils have proven that poverty is not destiny. 
Arnold the Bridge giant could not hold his excitement after receiving the results, he accredits his success to Bridge teachers who are committed, and professional, and deliver lessons wholeheartedly.  'I am happy that I am closer to achieving my dream of joining Kapsabet Boys High School. In the near future, I want to pursue a course in medicine and help bring change to my community he says."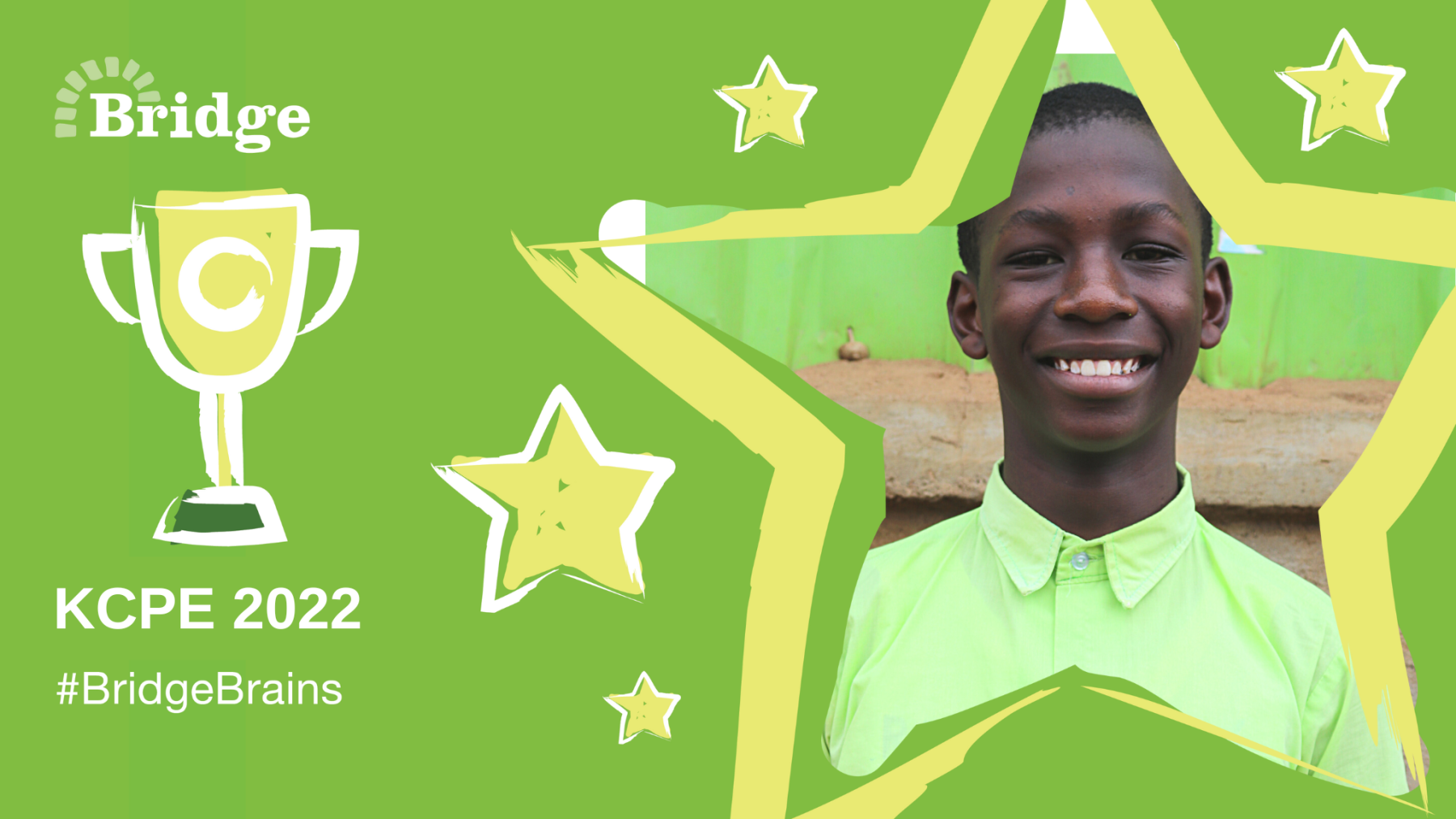 On the other hand, Byron Peter who aspires to become a Surgeon says scoring 403 marks in the KCPE 2022 exams was everything he ever hoped for. "I really wanted to score 400 marks and above and join Starehe Boys Center. I am grateful to Bridge because in my previous school I was a poor performer but through the Bridge teaching model I was able to rise above my fears." He says
Dennis Muthoka and Mark Nigel both credit their success to the supportive and understanding nature of their teachers. Dennis hopes to become an Aeronautical engineer while Mark is keen on pursuing a career in the medical field.
Griffin Asigo, Managing Director of Bridge Kenya, said:
For the eighth year running, we have a good number of pupils scoring over 400 marks. We are excited at what these strong results will mean for our pupils and their communities. The children have been studying hard with the support of their teachers and we are confident of their success. This proves once again that the Bridge methodology works.
Mr Asigo's remarks resonate with the findings of an independent study of the Bridge Academies by Nobel Prize-winning economist, Professor Michael Kremer, which found that Bridge pupils are 40% more likely to achieve the traditional national average of 250 marks or more in the KCPE examinations. 
The Bridge methodology is an integrated, technology-driven approach that supports teacher training and coaching, pupil performance, and school management. Some of the most immediate benefits of the Bridge Kenya approach to teaching and learning include increased instructional time, enhanced teacher support and training, and higher parental involvement in their children's education.
Professor Kremer's study suggests that Bridge pupils achieved 53% more learning compared to their peers, for instance, mastering in two years the equivalent of what it took primary school pupils in other schools to learn in three years. The findings of the independent study were subsequently cited in an October 2022 World Bank policy paper.
Bridge pupils have consistently bested the country's national average over the last eight years, indicating that the methodology suitably augments the government's Competency-Based Curriculum (CBC). It additionally aligns with Kenya's policy of 100% transition to secondary school, helping set the country on a course toward its goal of achieving universal basic education.
Multiple Bridge pupils have previously won places in some of Kenya's best secondary schools, among them Alliance Girls High School, Pangani Girls, Maranda High, Friends School Kamusinga, Mang'u High School, and Nairobi School. Some have gone on to attend prestigious universities and colleges in Kenya and the United States.
Bridge believes every child has the right to high-quality education and works in partnership with the government, communities, parents, and teachers to run or support schools in 30 Counties in Kenya. 
Bridge leverages in-depth teacher training and support, advanced lesson plans, and wireless technology to provide pupils with a meaningful and life-changing education.
Globally, there is an education crisis. Around 260 million children and young people are not in school while around 600 million in school are not learning. Bridge is committed to helping tackle this through a data-driven, evidence-based approach that delivers strong schools and a great education for all. Call 0800 722 123 or click here to enrol, We are transforming lives!