Bridge selected as government partner to pilot new Kenyan curriculum
Bridge Kinna has been selected by the Kenya Institute of Curriculum Development and the Kenyan Ministry of Education to take part in the curriculum pilot which will start later this week. The Kenyan education system will be adopting a new curriculum in the next few months, moving away from an old system that has been widely criticized.
The Kinna academy is one of 48 Bridge schools located in North Eastern Kenya, in Isiolo county, bordering Mandera, an area that suffers from conflict and is home to terrorist groups. The academy's selection as part of the flagship pilot is yet further demonstration of Bridge's key role as an education partner to the Kenyan Government.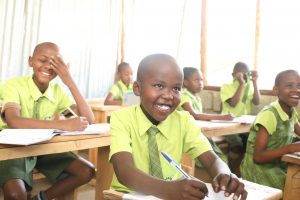 Bridge Kinna School Leader, Hassan Halakhe said,
"It is really a privilege for our school to have been selected to pilot the new curriculum in Isiolo county. We look forward to working as part of a successful pilot which will continue to further strengthen our relationship with the Kenyan government."
The academy opened in 2014 and has nearly 350 primary school pupils. Its first cohort will sit the KCPE exam in 2017 and the Bridge is confident it will replicate the success of other academies in previous years. In 2015, pupils achieved an average of 63% compared to a national average of 49%. In 2016, Bridge pupils scored 10% higher than the national average.
Inclusion in flagship initiative cements Bridge's role as Government partner in education delivery