Bridge national exam success continues in Kenya
For the fourth consecutive year, pupils at Bridge are performing exceptionally well in the Kenyan Primary school exit (KCPE) exams. Their marks are proving that with empowered teachers, children from marginalised communities can compete with the wealthiest sections of Kenyan society.
Initial KCPE results show that multiple Bridge pupils have scored 400 marks and above; making them likely to be awarded places at prestigious national secondary schools. Over 1,000 scored 300 marks or more. The Kenyan Cabinet Secretary for Education, Amina Mohamed has stated that the national average in 2018, is around 250 marks.
One of highest performing Bridge girls so far is 13-year-old Juarez Victoria Mara from Bridge, Lamu; a coastal area plagued by instability and high teenage pregnancy. Victoria was ecstatic after finding out she scored 403 marks "My teachers have been understanding and supportive, I am happy I have made them proud with a great score. Now I want all girls in my community to be encouraged to go to school and succeed like me. I used to think the world was Lamu, but now I know there is a world outside and I want to discover it."
Victoria lives her mother who is an artist, she's inspired Victoria to start sketching — when she is older, she would like to be an architect. "I would love to design buildings, I'd get to draw and use my maths," she says. Her favourite subject is maths, and her teacher – Mr Alex – is very supportive.
Not only is she hardworking in the classroom Victoria is passionate for social change, particularly the education of girls, saying: "Many parents do not send their daughters to school. They do not understand the value of an education — especially after primary school. I want everyone – girls and boys – to go to school!"
Thirteen-year-old Kalii Meshack Mutinda from Bridge, Gicagi is flying the flag for the boys. He was extremely proud to receive his score of 420 marks: "I am so happy, all my hard work has paid off. I have studied really hard with the help of my wonderful teachers and now I hope this is an inspiration to all friends and pupils from Gicagi that they too can do well."
In Gicagi, Kalii gets frustrated as many in his community do not believe there is any point to education, he knows this is wrong and wants to change this attitude. He said: "I have learnt so many things at school, I want everyone to go to school so they can all get jobs and help the whole community."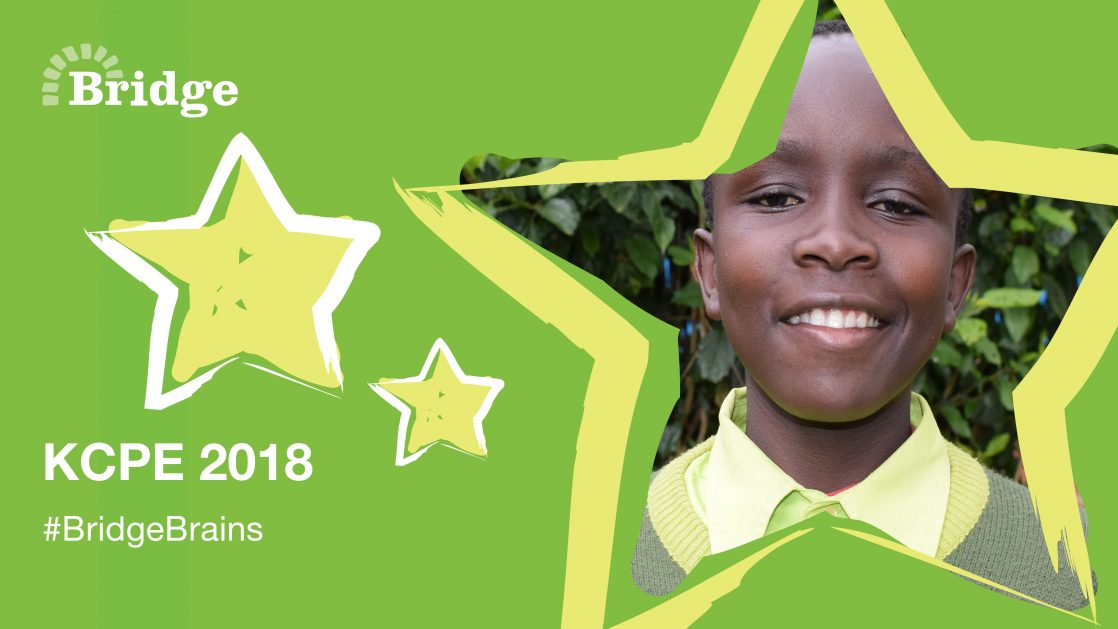 Also joining the 400 plus club is Odhiambo Warwick Otieno, he's 13-years-old from Bridge, Kiambiu in Nairobi County. From the one of the biggest slums in the country – Kiambiu – it wasn't always easy for him, he says: "Poor roads meant there were many times we could not get to school; when I am older, I will fix this and make life better for my community." Still, he persevered and has made his whole community so proud!
So far, in 20 of our academies every child has scored 250 marks and above.
Bridge had nearly 4,000 candidates sitting the 2018 KCPE, the highest number to date.  The KCPE results no longer determine a child's eligibility to go to secondary school but they are likely to determine what type of school, with options ranging from day schools to County schools and extra-County schools to elite national schools.
Reuben Wambugu, Bridge schools Director in Kenya said: "For the fourth year running, the early KCPE indications are looking very positive for Bridge pupils. We already have pupils scoring 420 and over. We're excited at what these strong results will mean for our pupils and their communities. The children have been studying hard with the support of their teachers and we're confident of their success; proving once again that Bridge academies are places of life changing education."
The results are the latest in a string of higher learning gains being evidenced by Bridge. The 2018 KCPE follows on the heels of a recent DFID report in Nigeria which showed equity of learning in Bridge schools; 100% pass rate in the Ugandan Primary school exams and exceptional learning gains released in a Liberian Randomised Control Trial.