Natasha Wanjiru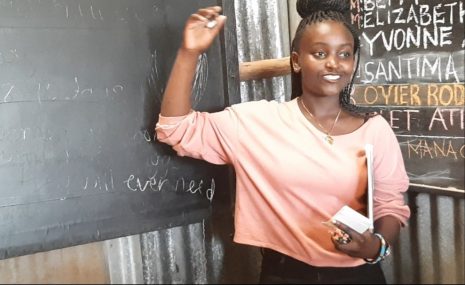 Meet Natasha Wanjiru, Bridge Kenya alumni — now a final year student at Episcopal High School in Virginia, United States. She recently flew home and took time to visit her primary alma mater — Bridge, Kabiria in the Kenyan capital city of Nairobi. She was there to talk to young girls about the challenges of being a teenager, and to raise awareness of menstrual health.
This menstrual health programme is the second project under the auspice of her Change4Change initiative, which was founded in 2017.  Natasha seeks to provide a safe space for teenage girls to ask any questions about the different stages of adolescence.      
One of the pupils in Natasha's group says that: "These sessions help us to understand puberty and what is happening in our lives," Another adds: "I'm learning a lot of things about the stage we are at that I did not know before."  
With support from Days for Girls, Natasha handed out free sanitary pads to all girls in Classes 7 & 8. Natasha states that her previous experience motivated her to help other young girls: "I have been in that situation before, without having pads, not knowing what is happening," she says.
Natasha sat her primary leaving exam in 2015, scoring 364 out of 400 — securing herself a scholarship to Episcopal High School. This is where she began her Change4Change initiative, to give other pupils access to scholarships as well as vital information about growing up.  
Her initiative currently supports 45+ pupils with their education, testament to the true multiplier effect of a good-quality education. Her experience in the U.S. has influenced her ambition: "I want to be a social entrepreneur, and use business to solve problems. Education is a good place to start," she beams.
Good luck for the future, Natasha!  
---
A message to my teachers #WorldTeachersDay 2019
Dear Teacher Winnie,
You helped me adjust to life at Bridge as a new girl in sixth grade and walked with me throughout my time there. You showed me what it meant to be a girl— that I could be anything I wanted to be and that I shouldn't be intimidated by that. I remember how you did somersaults with my friends and me during break time, and although that is a small detail it really did shape my time at Bridge. Through those breaks, you taught me the power of resilience and practice. You taught me how to stand out as a young girl and be brave. You taught me that even though there's always potential to fall, that there's also potential to rise and do it again. By applying these lessons inside and outside the classroom, I was able to pass my KCPE and even continue on to high school knowing that I can do anything I put my mind to. Thank you so much.
I'll always remember to work hard.
Dear Teacher Rachael,
I remember all those late times we would walk home together after school because you would stay back and help me with my compositions. I remember coming to school on Saturday and having walked to the market with you and my former classmates to have lunch and buy class gifts. I remember you telling us to work really hard to make something out of our lives. I remember you helping me get through my Social Studies tests when I was struggling with it. I do remember these little moments, and because of them, I always remember to work hard. Thank you so much for being there and for helping me get through my eighth-grade year at Bridge and pass my KCPE. It means a lot to me.
Dear Teacher Paul,
I don't even know where to begin. You are the main reason I even began my sponsorship project today because you showed me what it means to help others and the importance of giving back. You stepped in and paid for my school fees when my mother wasn't able to. You gave me the chance to have access to education, and for that, I really appreciate you. Thank you for being an awesome teacher and mentor.
---
Watch Natasha below on Kenyan TV's KBC Channel 1 'Family Matters' show from June 2018. A special Day of the African Child edition prompted a discussion on how best to protect and enhance the rights of the African child.