Teachers at the heart of education recovery
World Teachers' Day
World Teachers' Day is held annually on 5 October to celebrate all teachers around the globe. This year's celebrations are focusing on the theme "Teachers at the heart of education recovery".
Let's prioritize our teachers as echoed by UNESCO and UNICEF among other organizations in a joint statement released to mark teachers' day this year.
"On World Teachers' Day, we are not only celebrating every teacher. We are calling on countries to invest in them and prioritize them in global education recovery efforts so that every learner has access to a qualified and supported teacher. Let's stand with our teachers!"
The COVID-19 pandemic has significantly added to the challenges faced by the education system in Kenya causing a substantial setback in access to education and, for many, learning.
As society and the education sector recovers from the damaging effects of the pandemic, supported and empowered teachers will be critical for an effective recovery.
According to UNESCO, a successful education recovery hinges on increased investment in the well-being, training and professional development of the world's 71 million teachers to recover learning losses and manage transformations in teaching and learning imposed by the COVID-19 pandemic.
From the onset of the pandemic, teachers have been at the forefront offering mitigation responses such as leveraging technology creatively to facilitate remote learning and reaching children at risk of falling behind with home learning materials.
Importance of teachers during the pandemic
Since the announcement of the first case of COVID-19 in Kenya, many aspects of the society and the education sector have been dramatically affected. In order to contain the spread of the virus, the government closed all learning institutions countrywide for a prolonged period.
Closing schools physically and replacing them with learning from home changed the learning and teaching environment. Teachers who couldn't be physically present with their pupils had to abruptly move to online learning systems. They had to adapt their work almost overnight.
Teachers rose to the challenge and ensured learning continuity at home. Vincent Juma is one of the hero teachers who ensured that pupils from Kingston community in Nairobi continued to learn at home.
Juma says that internet coverage is a big problem in the community and not everyone has access to a smartphone or computer. Together with his colleagues, Juma informed parents about the Bridge at home learning resources and distributed learning materials via parents' WhatsApp groups.
"It took a lot of effort and individual outreach to help pupils and parents and ensure that pupils are able to continue learning at home," says Juma.
Teachers have emerged as heroes during the COVID-19 pandemic. Not only did they have to adapt quickly to new ways of teaching but they also took on the responsibility of keeping children safe once in-person classes resumed.
Catherine Wanjiku is a Bridge teacher from the Kutus community in Kirinyaga County. She has made a big difference in the lives of her pupils and their families at a very difficult time in their lives. She says that when in-person classes resumed, she was cognizant of the need to help children adjust to the new normal. This included keeping children occupied, safe, and keeping up with schoolwork as best as possible.
"Children look to adults for guidance on how to react to difficult circumstances. I have always taught my pupils positive preventive measures, talking with them about their fears, and giving them a sense of control over their risk of infection. This has helped reduce anxiety and allowed pupils to concentrate on their class work." Remarks Wanjiku.
Benefits of investing in education and supporting teachers
Empowering teachers to leverage technology in delivering learning will go a long way in aiding a full recovery.
Bridge Kenya believes that strong teachers are key to superior learning outcomes. Prior to the COVID-19 pandemic, Bridge has been supporting teachers to succeed in the classroom and help every child on the pathway to success. All Bridge teachers receive teacher guides on which to access teacher guides and are trained on how to use them effectively.
The teachers are provided with technology to use in the classroom, not only for accessing and teaching their lessons, but also for keeping track of pupil performance and attendance data.
Providing teachers with the necessary technology has enabled teachers at Bridge to collect information about pupils' understanding throughout lessons. Teachers can then make adjustments to their feedback on the basis of their interpretation of that information, and give specialized attention to learners who are at most risk of lagging behind.
Bridge uses technology as a supplemental tool to allow teachers to maxmise the learning time. Technology enables teachers to focus more on teaching the pupils rather than planning. Teachers are freed to concentrate on supporting the pupils and giving special time to those who are struggling.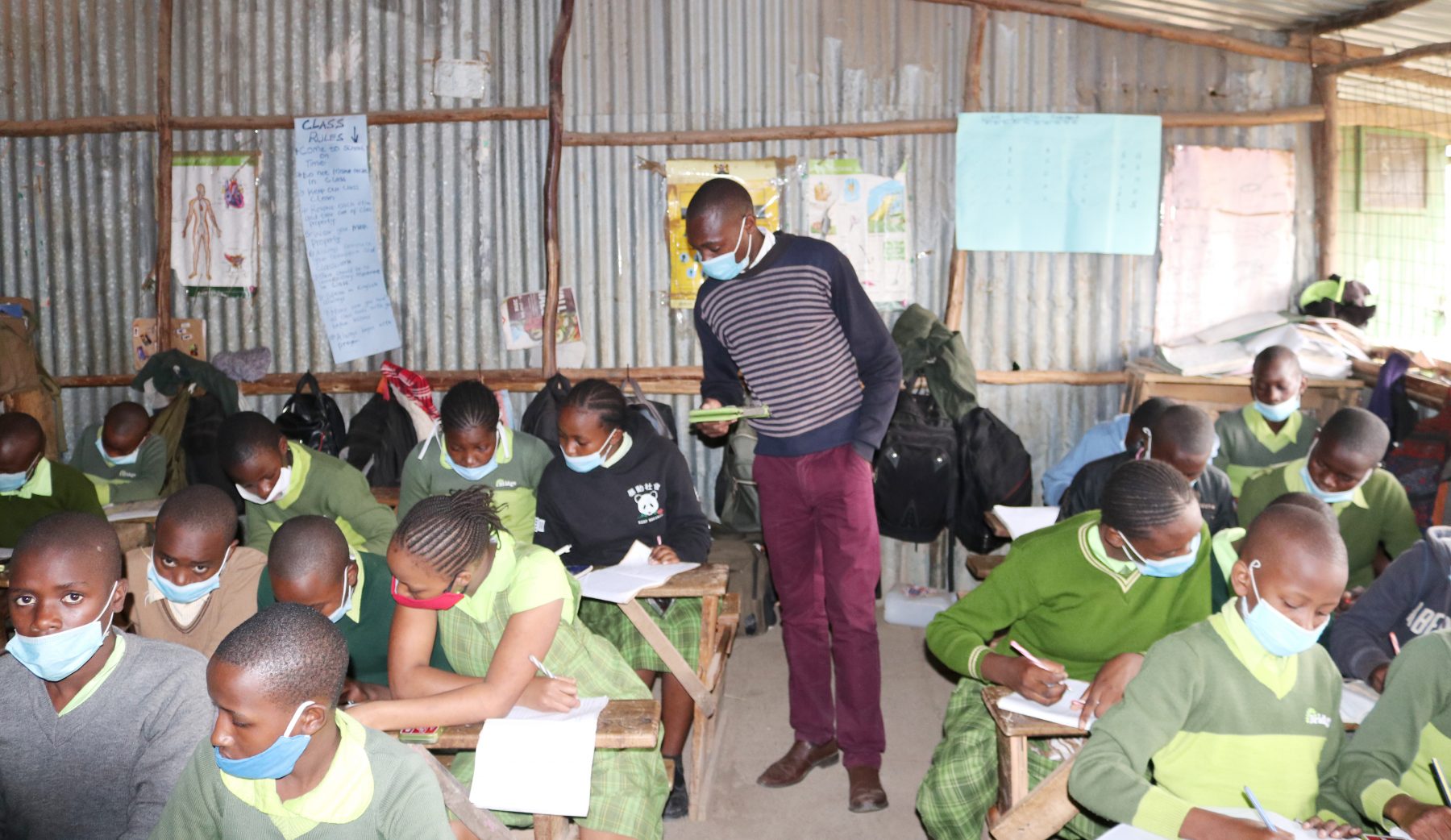 Teachers need to be supported, trained and empowered. Bridge provides teachers with resources that they need to teach effectively and material that is designed to help children recover from the learning losses as a result of the prolonged school closure.
With the right support, teachers are able to exceed expectations and become great teachers who change the lives of children. All Bridge teachers benefit from ongoing training opportunities to deliver better in the classroom.
The way forward
There will be no education recovery without teachers. Even in ordinary times, teachers are always at the centre of learning within an education system. Teachers serve various roles in the classroom among them building a safe and conducive learning environment, mentoring and nurturing pupils and providing differentiated learning experiences.
The COVID-19 pandemic has only reinforced the importance of teachers; and the daily interactions that provide an inspiring and nurturing environment for children. In the post pandemic period, teachers are key to education recovery. This will only be possible if we invest in our teachers and give them the necessary support to succeed.