The trend of evidence shows the Bridge effect is real
Bridge is driven by learning gains. The accumulating evidence from internal and external studies clearly shows Bridge students learn more than their peers at traditional public schools.
Bridge students do better on tests that matter. Passing the Kenyan Certificate of Primary Education Exams (KCPE) is required to attend government secondary schools. In 2016, fewer than half of all public and private school students across Kenya passed the KCPE. About 10% more students with 2 full years at Bridge passed KCPE. We are proud of our student results and we are working to improve our schools so even more students pass these important national exams.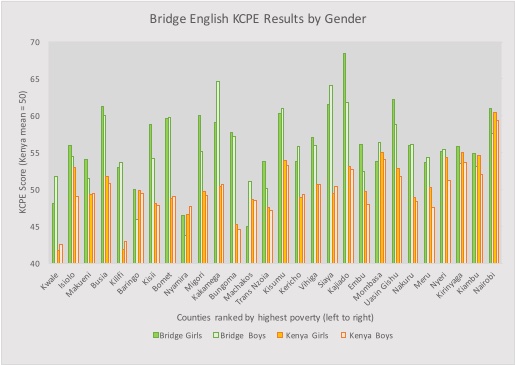 Bridge students also do better on tests of early literacy and numeracy. On the Early Grade Reading Assessments (EGRA) and Early Grade Mathematics Assessments (EGMA), tests developed in conjunction with USAID and used by education ministries and multi-laterals across the world, our pupils also outperformed their peers in traditional public schools. In Kenya, the difference was striking, equivalent to adding 64 more days of learning in reading and 26 more days of learning in mathematics to the school year.
We see similarly striking learning gains in Liberia. A report published in collaboration with the ministry of education and the University of Liberia has revealed Bridge Partnership school for Liberia (PSL) pupils made more progress toward achieving national literacy benchmarks. In just 4 months, 17 percent of Bridge PSL second graders met the reading fluency benchmark for the first time, compared to only 4 percent of second graders at traditional public schools. Bridge PSL public school students also outperformed their traditional public school peers on the reading comprehension benchmark by a similar margin; 15 percent of Bridge PSL public school students met this standard for the first time, compared to 4% of students attending traditional public schools.
These impressive results have attracted international attention. Consequently, Bridge has increased its efforts to rigorously examine impact and opened our schools to independent, internationally renowned researchers. Bridge is participating in two independent randomised controlled studies (RCT's), one in Liberia conducted by Center for Global Development and one in Kenya conducted by Harvard academics. Participation in these rigorous studies establishes Bridge as transparent and willing to engage the academic research community.
Even though Bridge's comparisons with traditional public schools look good and these comparisons are attractive to the families and governments who trust Bridge to deliver high quality education, we strive to be better and to help others do so as well. As we continuously test, refine, and improve our curriculum and teaching methods, we plan to share what we learn. It's our hope that the entire field of education will gain from this learning.