UNGA 78 Sideline Events: Transforming Education, Overcoming Crisis, & Improving Learning Outcomes
Addressing the educational disparity in Kenya & Uganda: A revolution driven by data
In low- and middle-income countries, educational poverty has reached a critical juncture. Shockingly, 53 percent of children in these regions struggle to read and comprehend a story by the end of primary school. The COVID-19 pandemic exacerbated these challenges, further underscoring the urgent need for an education overhaul.
As the 78th Session of the United Nations General Assembly (UNGA 78) unfolds, an array of sideline events captures the essence of global challenges and solutions. Amidst these discussions, one event stands out – "Transforming Education: Overcoming Crisis, Improving Learning Outcomes," organized by NewGlobe and Devex.
This event not only resonates with the broader UNGA 78 agenda but also signifies the urgent need to bridge the educational gap in low- and middle-income countries.
Education stakeholders from around the world are convening at this event to address the necessary steps for a comprehensive transformation of the education sector, aiming to enhance learning outcomes. There is a clear imperative to surpass the current state, as reverting back to pre-COVID conditions would be insufficient.
Instead, there is a pressing need for bold efforts in learning recovery and acceleration. Only through such ambitious initiatives can we hope to achieve Sustainable Development Goal 4, which aims for inclusive and equitable quality education for all by 2030.
Today, we explore how Bridge Kenya is not just bridging that gap but revolutionizing education with a data-driven approach.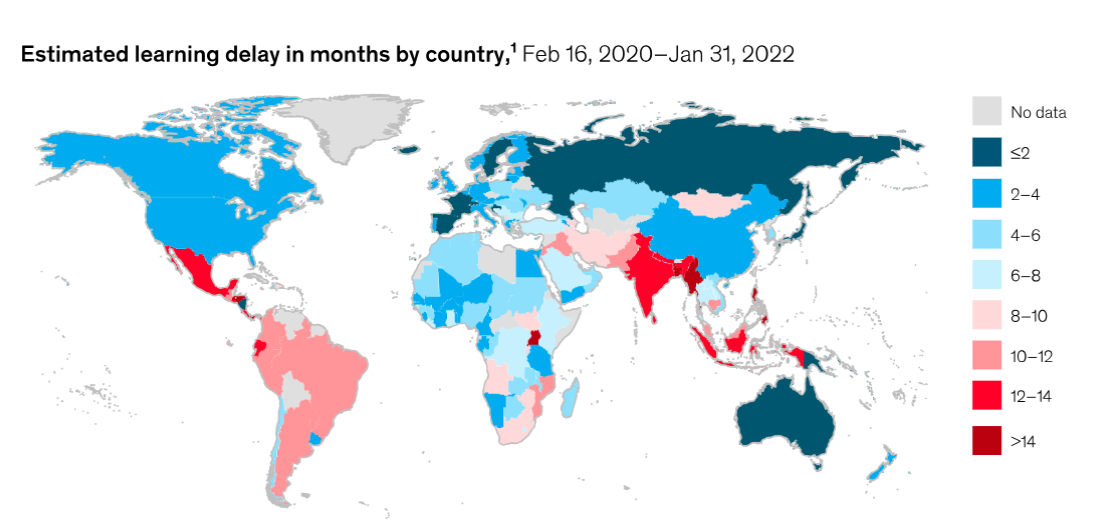 Educational Poverty and the Data Gap
Before delving into Bridge's approach, it is essential to understand the scope of the problem. The educational poverty plaguing low- and middle-income countries necessitates a profound transformation. The education system is already strained and set to face more significant challenges with an expected 750 million school-aged children by 2060.
A critical issue is the data gap, particularly in sub-Saharan Africa. UNESCO reports a lack of information on the learning levels of two-thirds of children in the region, hindering information needed to design effective learning strategies across the board. Gathering and analyzing data is an essential first step for improving learning outcomes.
This is an intervention that Bridge is already well acquainted with, and has shown in a measurable way, that progress is possible if efforts focus on classroom practices informed by evidence and data that is tangible and easy to interpret for teachers and policymakers alike. Independent studies, including one led by Nobel Prize-winning economist Professor Michael Kremer, affirm Bridge's success.
Bridge pupils consistently outperform their peers, receiving 53% more learning and gaining an additional year and a half of learning in just two years. The results were accomplished in low-income communities where a large number of households live below the poverty line of $2 per day. This demonstrates that positive learning outcomes can be achieved within these communities, even with limited resources. It also suggests that the methodologies used could be applied on a larger scale, potentially benefiting an entire nation.
By leveraging data and technology, government bodies, educators and policymakers can gain valuable insights into the state of education in Kenya. This information can inform evidence-based decision making, leading to targeted interventions and reforms that address the specific needs of students and schools.
                                     Africa's Response and Recommendations
The urgency to address these challenges prompted African governments to convene at the ADEA Triennale in October 2022. Their goal? To find solutions for a region where children are five times less likely to learn the basics compared to their global peers. Their recommendations encompass giving all children access to quality textbooks, teaching in their native language, providing school meals, setting clear learning standards, and enhancing teacher capacity, among others.
Bridge has been implementing these suggested strategies remarkably well over the last 12 years, consistently demonstrating their effectiveness. The organization's innovative approach ensures that teachers have clear learning plans, which are aligned with established learning standards, targets and outcomes.
Bridge is dedicated to developing and growing teacher capacity through comprehensive training and guides, resulting in a significant impact on reading fluency not only within the nation but also beyond the region. Additionally, Bridge supports effective school leadership by building competent instructional leaders.
The organization also recognizes that addressing hunger is essential for optimal learning, and therefore, it has implemented feeding programs in schools to ensure that students have access to nutritious meals.
                                     Investing in Early Childhood Development
After the widespread disruption caused by the COVID-19 pandemic, schools have reopened worldwide. However, the field of education is still in the process of recovering and evaluating the extent of the damage caused, as well as the lessons learned. The pandemic had a significant impact on over 1.5 billion students and youth, with the most vulnerable learners being particularly affected.
As a result, some of the progress made towards the goals outlined in the 2030 Education Agenda was lost. One area of focus for education in the aftermath of the pandemic is Early Childhood Development (ECD).
Bridge places a strong emphasis on ECD and has achieved notable learning gains, especially during the first three years of schooling. A study conducted on Bridge methodologies revealed that it resulted in the largest learning gains ever recorded on the continent during the initial period of schooling.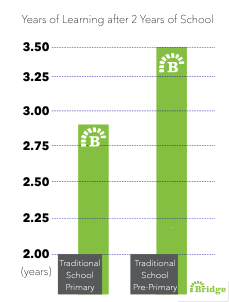 Children attending a Bridge primary school would receive the equivalent of an extra four years of learning by the time they finish primary school, which is 45% more than those attending ordinary schools.
These learning gains measured at Bridge schools far exceeded the 99th percentile of gains ever rigorously studied in emerging markets. The effects of the pandemic on education are still being assessed, but it is clear that Early Childhood Development is a critical aspect of the recovery process. This highlights the importance of investing in early education to ensure optimal learning outcomes for students.
Amidst these pressing challenges, Bridge Kenya has emerged as a beacon of hope. Its innovative, data-driven approach to education aligns seamlessly with the objectives of UNGA 78's "Transforming Education" event. By integrating technology into the learning process, Bridge ensures that students and teachers were not left in the dark during the pandemic. What's truly remarkable is that this approach extends beyond the pandemic, backed by compelling statistics.
As we engage in the discussions and debates at UNGA 78 on the topic of "Transforming Education" and post-Covid-19 recovery, it is important to recognize that education presents both a challenge and an opportunity. Bridge Kenya  serves as a prime example of the transformative potential of data-driven, technology-based education.
By bridging the educational gap and shaping the future of learning, Bridge is making a significant impact. Its approach offers a ray of hope in a world that recognizes education as a global public good, illustrating that even amidst crisis, innovative solutions can pave the way forward. What sets Bridge's approach apart is its resilience and effectiveness, both before, during, and after the pandemic, as supported by compelling statistics.